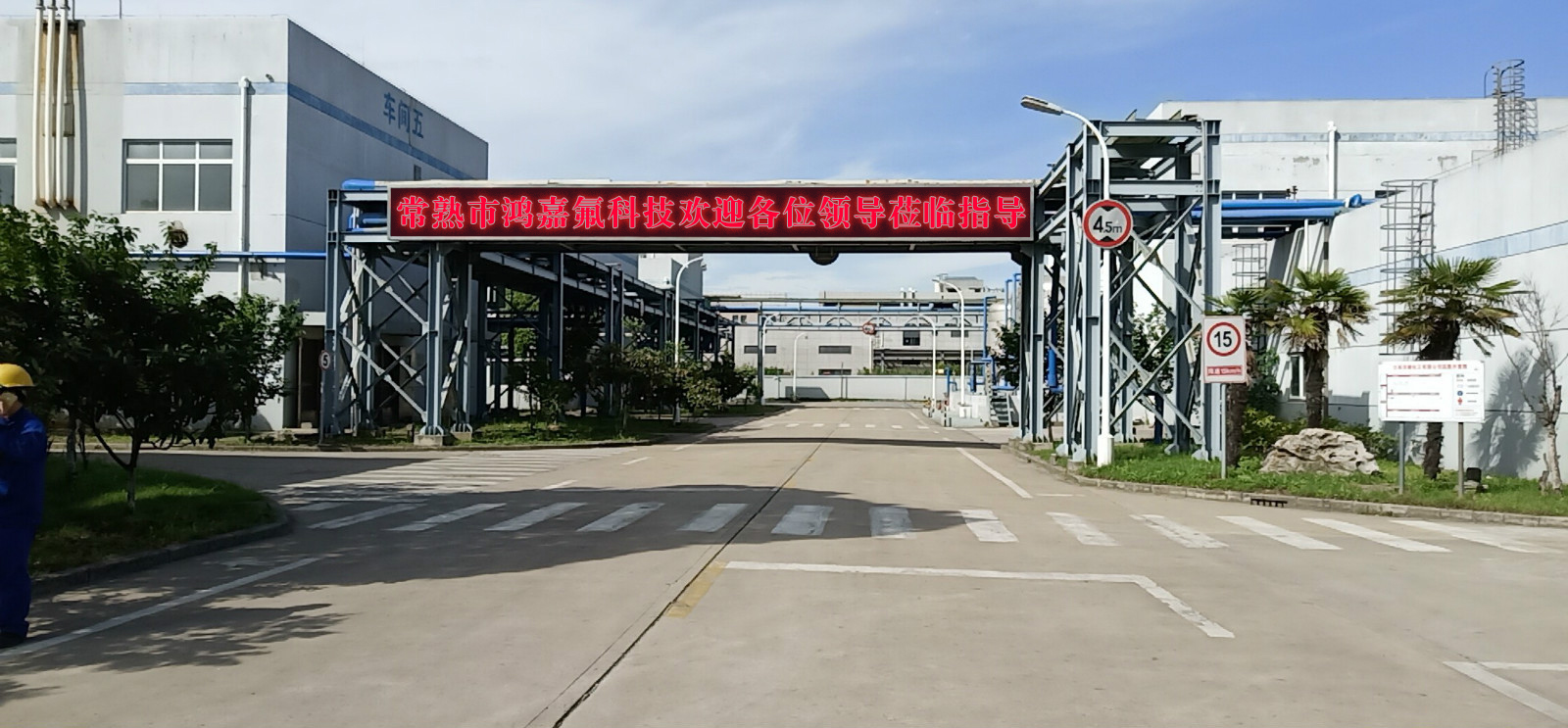 常熟市鸿嘉氟科技有限公司是一家致力于从事含氟化合物聚合物新材料产品的研发、销售的新型企业,公司位于江苏常熟,紧靠204国道S338省道和沿江高速公路,距苏通大桥10多公里,企业始建于2008年,为了适应日益激烈的市场竞争形势,公司和多家有实力的国内外化工企业和高校科研团队,研究所研究院等互动合作双赢,企业得到不断改进.公司拥有了一套 现代化的管理方法和一批实践丰富的中高 级技术人才及生产骨干。沿着多品种发展的方向,公司注重技术创新,科技兴企的理念。
致力研发技术含量高的氟科技产品:注册商标.[鸿嘉氟]主要产品有氟硅胶、氟硅油 ,氟橡胶、氟硅三聚体 三氟丙基甲基环三硅氧烷(D3F) 聚四氟乙烯(PTFE)粉料、聚全氟乙丙烯(FEP)、四氟乙烯与全氟烷基乙烯基醚共聚物(PFA)、聚三氟氯乙烯(PCTFE)、聚偏氟乙烯(PVDF)、乙烯与四氟乙烯共聚物(ETFE)的涂料常温固化氟树脂 氟化物系列:氟锆酸钾、氟硼酸钾 氟化镁 氟化钡 氟化铝 氟化氢铵 氟硼酸铵 氟硼酸钠 无水氟化钾 氟化氢钾 氟钛酸钾 氟硅酸钾 氢氟酸 氟硅酸 氟硼酸 氟锆酸 氟钛酸磷酸盐系列:次磷酸.次磷酸钠. 制冷剂系列: R142B R502 R415B R407C R134A R32 R600A R290 R152A R406A R417 R404a R410 R407C 六氟丙烯、八氟环丁烷,全氟环醚,氟碳树脂、氯化钙 六氯乙烷 工业清冼剂、氟涂料、PVDF聚偏氟乙烯及含氟化学品的技术开发。加工经营液碱、硫酸.试剂硫酸,盐酸,次氯酸钠,过氧化氢,电子级硝酸,盐酸胍等化学试剂和水处理药剂。产品涉及20多个大类、200多个品种、千余种规格,广泛应用于航天、航空、汽车、电子、石油、化工、纺织印染,水处理和机械等领域,大力发展"绿色经济、循环经济、低碳经济"。
公司为了能更好的为客户提供服务,成立了危险品运输车队,有20多辆车随时有物流部调动。更加安全,快捷,高效等把产品输送到世界各地。
常熟市鸿嘉氟科技有限公司是一家经我国相关部门批准注册的企业。打响《鸿嘉氟》的理念,公司以上游的实力、优良的品质,合理的价格、优良的服务与多家企业建立了长期的合作关系。鸿嘉提出"诚信"、"务实",为经营之本,始终用业务知识、最敬业的工作精神、最热情的服务态度办好客户的每一件实事.
 客户的需要就是我们的工作。客户的满意就是我们的追求."诚信是金"是每个"鸿嘉"人共同的理念。鸿嘉愿真诚的与您合作。给你的梦想插上腾飞的翅膀,公司热诚欢迎各界前来参观、考察、洽谈业务,共同开创明天的辉煌。
Changshu Hongjia Fluorine Technology Co., Ltd. is a new enterprise dedicated to the R&D and sales of fluoropolymer new material products. The company is located in Changshu, Jiangsu Province, close to the S338 Provincial Highway 204 and the Yanjiang Expressway, and more than 10 kilometers away from the Sutong Bridge. The company was founded in 2004. In order to adapt to the increasingly fierce market competition, the company and a number of powerful domestic and foreign chemical enterprises and university scientific research teams, The company has a set of modern management methods and a group of high-level technical talents and production backbones with rich practice. Along the direction of multi-variety development, the company pays attention to the concept of technological innovation and invigorating the enterprise through science and technology.
We are committed to the research and development of fluorine technology products with high technical content: registered trademark [Hongjiafu] The main products include fluorosilicone, fluorosilicone oil, fluororubber, fluorosilicone trimer trifluoropropylmethylcyclotrisiloxane (D3F), polytetrafluoroethylene (PTFE) powder, polytetrafluoroethylene propylene (FEP), tetrafluoroethylene and perfluoroalkyl vinyl ether copolymer (PFA), polytetrafluorochloroethylene (PCTFE), polyvinylidene fluoride (PVDF), ethylene and tetrafluoroethylene copolymer (ETFE), and the series of fluororesin fluoride cured at room temperature: potassium fluorozirconate Potassium fluoborate, magnesium fluoride, barium fluoride, aluminum fluoride, ammonium hydrogen fluoride, ammonium fluoborate, sodium fluoborate, anhydrous potassium fluoride, potassium hydrogen fluoride, potassium fluotitanate, potassium fluosilicate, potassium fluosilicate, fluosilicate, fluoborate, zirconium fluoride, fluotitanate phosphate series: hypophosphoric acid, sodium hypophosphite, refrigerant series: R142B R502 R415B R407C R134A R32 R600A R290 R152A R406A R417 R404a R410 R407C hexafluoropropene, octafluorocyclobutane, perfluorocyclic ether, fluorocarbon resin Technical development of calcium chloride hexachloroethane industrial detergent, fluorine coating, PVDF polyvinylidene fluoride and fluorine-containing chemicals. Processing and operation of liquid alkali, sulfuric acid, reagent sulfuric acid, hydrochloric acid, sodium hypochlorite, hydrogen peroxide, electronic grade nitric acid, guanidine hydrochloride and other chemical reagents and water treatment agents. The products cover more than 20 major categories, more than 200 varieties and more than 1000 specifications, and are widely used in aerospace, aviation, automobile, electronics, petroleum, chemical industry, textile printing and dyeing, water treatment and machinery, and vigorously develop "green economy, circular economy and low-carbon economy".
In order to provide better service to customers, the company has set up a dangerous goods transport fleet, with more than 20 vehicles ready for transfer by the logistics department. It is safer, faster and more efficient to transport products to all parts of the world.
Changshu Hongjia Fluorine Technology Co., Ltd. is an enterprise approved and registered by the relevant departments of China. The company has established long-term cooperative relations with many enterprises with its upstream strength, excellent quality, reasonable price and excellent service. Hongjia has put forward "honesty" and "pragmatism" as the basis of operation, and has always done every practical thing for customers with business knowledge, the most dedicated working spirit and the most enthusiastic service attitude
The needs of customers are our work. Customer satisfaction is our pursuit "Honesty is gold" is the common idea of every "Hongjia" person. Hongjia is willing to cooperate with you sincerely. Put wings on your dream to take off. The company warmly welcomes all walks of life to visit, investigate and negotiate business, and jointly create tomorrow's brilliance.